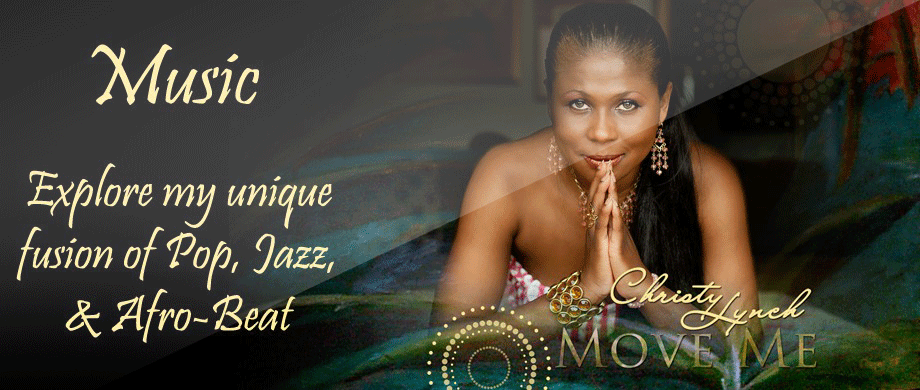 Name: Christy Lynch
Nationality: Nigerian – American
Music Genre: Afro-Jazz- Pop
Christy O. Lynch is a Nigerian-American who has been singing since the tender age of Five.She was known among her elementary school mates as the class entertainer. Her genre is afusion of Pop, Jazz and Afro-beat. Her music inspiration includes: Tina Turner, Anita Baker andAfrican music legend, Fela Ransome-Kuti.
She took up singing professional as a teenager with a local band in her native born city of Lagos in Nigeria. Christy has been traveling the globe, following in her passion for music. She has lived in such countries as: Indonesia, Angola, Kazakhstan, The Philippines, Canada and of course Nigeria and the United States of America.
Christy was a performing member of "The Choral" on a talent grant, at Florida Community College at Jacksonville. In 2003, she earned a degree in Interdisciplinary Social Sciences from (FSU) Florida State University.
During her stay in Canada, she performed gigs with the Brian Strand Blues band.
Christy spent 4 years in Kazakhstan, during which she won the hearts of many with her performances in Atyrau. She collaborated with the popular, local Jazz artists of the Meri Group. Her first live concert was a back-to- back performance at the Atyrau Philharmonic in September of 2004, followed by two consecutive days of live performances at the Atyrau Drama Theater in April of 2005. She also participated in the Aktobe Jazz festival of 2005, in which alongside the Meri group, they were awarded the Outstanding Performance Award. Her weekly gigs at the upscale FIESTA Restaurant in Atyrau, was very popular among locals and expatriates. She has also graced many social events and numerous multi-national company social functions with her performances. Christy has also been featured in numerous local newspaper and magazine publications as well as local television in Kazakhstan.
In Manila, Christy's singing was popular within the expatriate community. She was a regular feature at the semi-annual Australian-New Zealand (ANZA) Jazz event in Makati City, Philippines.
Christy successfully launched her first Afro-Pop CD on May 17, 2011 at The Shang Grand Tower, Manila, Philippines and the event was widely covered in the Philippines press. The debut, 12 track album is a fusion of pop, jazz and Afro-beat. The songs include: Move Me, Soul of Gold, Search Is Over, Secret Lover, For Goodness Sake, Losing You. Precious One, Sensations, You Told Dirty Lies, My Search Is Over – Remix, Move Me – Remix and Move Me – Extended Bonus Track. Christy is an independent record and TV Producer, operating under her company name: Style By Christiana, LLC. She wrote the entire lyrics and also worked with music arrangers on all songs on her debut album, "Move Me."
Songs are currently available for purchase at StyleByChristiana.com and www.cdbaby.com, www.itunes.apple.com, www.amazon.com, www.rapsody.com, www.napstar.com and a host of other online stores.
In March of 2012, Christy launched her new single, "Swagger," which was produced and launched in her native: Lagos, Nigeria where it was received with good reviews in the press.